Facts About Drain Cleaning in Sarasota
It's not a great feeling, as a homeowner, when you realize that your drains aren't working well. After all, getting drains cleaned, at best, takes time and energy that you may not have. At worst, it can become a major project that eats up focus that you want to put in other places.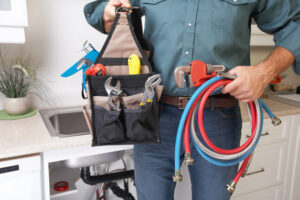 If you need drain cleaning in Sarasota or the surrounding areas, call your local Sarasota plumber at Wimpy's Plumbing & Air. We'll send out a plumber to get your drains cleaned fast. It doesn't matter if the job is big or small because we'll take care of it no matter what. Before long, your water will be draining again as usual.
DIY Drain Cleaning Sarasota
If you do want to take a stab at drain cleaning in Sarasota on your own, we recommend using a chemical solvent designed specifically for removing clogs. You can find these at the grocery store or the hardware store. All you need to do is follow the directions on the bottle. Make sure you don't leave these in your drains too long as, occasionally, they can eat away at your pipes.
You can also rent a plumbing snake to try your hand at drain cleaning. We don't recommend this unless you have some experience using them, though. It's easy to get the cheap snakes that you can rent stuck in drains. We've removed many of these and we are here to tell you that it's much easier to call us BEFORE you get the snake stuck! Of course, calling a professional Sarasota plumber ensures all the best tools will be used!
Normal Drain Cleaning Sarasota
If you call us for drain cleaning, our plumbers in Sarasota will always get to you ASAP. We'll never ask you to live too long with a clogged drain! Once there, we'll usually use our own professional-grade plumbing snakes to remove your clog. These are more robust than the ones you can rent and your plumber has lots of experience using them, so they are less likely to get stuck. We'll also size the snake to the drain that needs to be cleaned to reduce the risk even more.
If a snake won't work, we have other methods to get your drains cleaned. If we have to, we can even remove the clogged section of pipe and replace it with a clean one. We'll get that clog out no matter what!
Sewer Line Drain Cleaning Sarasota
Sometimes, it turns out that you need a Sarasota plumber for sewer cleaning. If we tell you this, don't worry! We'll get those clogs out, too. Most of the time, we can use trenchless sewer repairs in Sarasota, like hydrojetting or sewer rodding to remove that clog without even having to dig a hole in your yard. We'll get your sewer cleaning finished as soon as we can so you can use your plumbing normally again.
Call us at Wimpy's Plumbing & Air today for all of your drain's needs. Our Sarasota plumbing experts will get the work done quickly because we want to help you stop worrying and get back to your normal routine. Make your appointment with one of our drain cleaning experts today!