High Tech Showerhead from Kohler
Who likes to get into the shower and have a nice spraying showerhead? Everybody!! What do you get the person who has everything? A Kohler showerhead that plays music with bluetooth technology, called the Moxie. Not only does the Moxie showerhead produce a really nice shower, it will play the music you want to hear.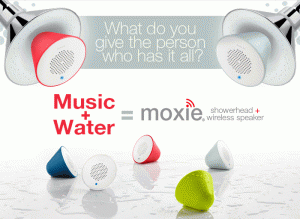 The showerhead sprayface features 60 angled nozzles that deliver the full, enveloping spray you've come to expect from a KOHLER® showerhead. Also, available with a water-saving 2.0 gpm or a 2.5 gpm spray, Moxie lets you save water without sacrificing performance. And the silicone sprayface of the showerhead makes it easy to wipe away mineral buildup.
The Moxie shower head, by Kohler, is a waterproof speaker with the quality that will match a Bose speaker. The speaker sits inside the shower head, yet is easily removable to take with you anywhere to play your favorite music. It will showerhead will Sync your device enabled with Bluetooth® technology with the wireless speaker from up to 32 feet away, and invite your playlist, podcast or live broadcast into the shower.
The Moxie showerhead is rechargable and lasts about eight hours on a single charge. Music in the shower, not just in the room. Wow! Or just take it to the beach, on the boat, anywhere you go. And when you get home, just put it back into the showerhead for a invigorating shower with your tunes.
Would you like someone to really like the gift you give them? Something cool, different and useful. Did I mention fun? Get your Kohler Moxie showerhead, one for you and one for a friend. They will love you for it and you'll be glad you got one too!
They come in some pretty fun colors; Navy Blue, Chartreuse, Retro Blue, Cherry Red and Original White. Check out Kohler's Link https://www.us.kohler.com/us/Moxie%22-Showerhead-+-Wireless-Speaker/content/CNT16200089.htm or just give Wimpy's Plumbing & Air a call at 941-322-1911 and we will bring you one right over!