My lavatory won't seal.
Bathroom sinks are called lavatories by plumbers. Lavatories in the bathroom are also called basins. People are accustomed to the lavatories holding water while they are shaving or using the basin to rinse or soak something. There are times when the lavatory doesn't hold water. Now a days, it seems more common then ever. I want to list a few of the reasons why this could be occurring.
The more competitive lavatories are not formed well where the drain ring fits in. Thus the plumber has to use more putty to make sure it seals. If you fill up the lavatory just over the drain ring and watch it carefully, you will see if the water is going out from around the drain ring or the actual stopper is leaking. If the water is going out from around the drain ring, one would need to disassemble the pop-up assembly, clean off the old putty, install fresh putty generously and reassemble the pop-up assembly. Then check it again for water leaking by the drain ring. Hopefully that took care of it and your lavatory holds water.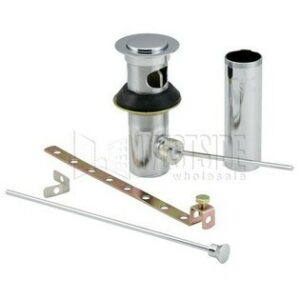 If the water is leaking out by the drain plug and again you need to just cover the drain ring with water and watch to see where the water is draining by, then maybe the lift rod that pushes and pulls the drain plug open and closed is not pulling up all the way. Some of the cheaper lavatory faucets seem to always skimp on the quality here with the pop-up assembly. The lift rod may be plastic and flimsy or made from very thin steel that flexes too much and causes the drain plug not to be pulled down completely, allowing the water to leak by the drain plug. If this is the case, You should buy a better quality lavatory valve that has a brass pop-up assembly. Some of the cheaper brass pop-up assemblies don't seem to open up all the way and this restricts the water draining out of the lavatory. One of the better pop-up assemblies in brass is a Moen pop-up assembly. It is cheaper though to buy the faucet with the brass pop-up assembly than to buy the Moen brass pop-up assembly by itself.
Sometimes the lever that holds the drain plug and makes the plug go up and down is just loose and doesn't hold the drain plug down. This can be very easily tightened. Then the lavatory holds water and your spouse thinks you are a hero.