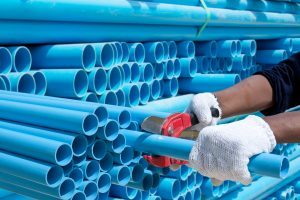 The Benefits of Trenchless Technology
If you think the fact that your sewer and water lines are buried beneath the ground means that they are protected, think again. There are still plenty of problems that can develop with these pipes. Sometimes, cleaning them out can restore them to proper functionality. Other times, repairs or even replacements are necessary.
Now, you may be thinking that a sewer or water line replacement or the repair of these pipes is a huge undertaking. While it is definitely still a big job, and one that only professional plumbers can handle, there is technology that takes a lot of the headache out of the procedure. Work with us, and take advantage of all that trenchless pipe repair in Sarasota, FL has to offer.

How Does Trenchless Pipe Repair Technology Work?
Because drain and water lines are buried underground, accessing them in order to service those pipes used to entail a fair amount of excavation. A trench would have to be dug out along the length of the entire pipe in order to expose it. Often, the exact cause of the problem or extent of the damage could not even be determined until the pipe was exposed.
Trenchless technology, along with other technologies such as camera pipe inspection equipment, changed all this. Now, our Sarasota plumbers can use cameras to look right into your pipes. If we determine that your pipe must be repaired or replaced, we can do the job with very minimal disruption to your property.
By digging a pit at each end of the pipe, we can use our trenchless system to pull a new pipe into place. Should repairs be preferable to replacement, we can pull a pipe liner through the existing pipe. That liner can then be inflated, and it will adhere to the interior of the existing pipe. When it hardens, you will have a new pipe within the old one.
The benefits of trenchless pipe repair in Sarasota, FL and the surrounding areas are clear. Less excavation, quicker service times, and reduced labor. Just remember that not every plumbing company offers this service. If you want trenchless pipe repair or replacement completed, work with the professional Sarasota plumbing team at Wimpy's Plumbing & Air.
Call today and find out why our customers say, I Love My Plumber!