We Recommend the Halo 5 Water Filtration System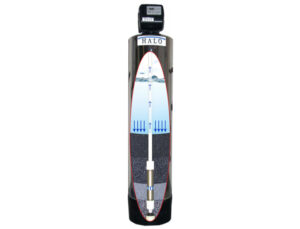 When you want a cool drink of water, do you resort to expensive, wasteful plastic bottles? When you wash your laundry, does hard water impede the process? There are a number of different problems that you may encounter with your water quality. Fortunately for you, there is a water treatment system available that can resolve just about all of them.
Using a HALO 5 whole-house water treatment system in Sarasota, FL is a great way to vastly improve the quality of the water coming from taps in your house. From softening water in Sarasota to targeting pollutants that may negatively affect taste, the HALO 5 maintenance free whole-house filtration & conditioning system can handle the job. Contact us today to schedule your Halo 5 Water Conditioning System installation in Sarasota. 
Why Choose the HALO 5?
Because it's a comprehensive solution to Sarasota water quality problems! There are a lot of good water filtration systems on the market. There are also many good water softeners. Why not tackle multiple problems with just one system, though? That is what the HALO 5 system allows you to do, thanks to its 5 stage operation.
Stage 1 is the granular activated carbon. This NSF certified, acid washed GAC will remove chlorine, gases, dyes, fuels, heavy metals, pesticides, and more.
Stage 2 is the Centaur® high activity carbon. The Centaur® HAC reduces chlorine in the water, which helps to improve taste and odors. It also will balance pH levels.
Stage 3 is the Filter-Ag Plus®. This all-natural media is environmentally safe, and boasts a large surface area with a micro-porous structure. This will remove water turbidity, filtering out suspended matter down to a 5 micron or less range.
Stage 4 is the high density garnet filter media. This is a high hardness and high density granular filtration media, effectively filtering down to the 10-20 micron range.
Stage 5, the final stage, is the HALO ION Inline Water Conditioner. This water conditioner multi-reversing poarity permanent magnetic fields in order to alter the molecular structure of dissolved calcium and magnesium ions. This is an innovative way in which to prevent issues with hard water.
If you have any questions about this system, or want to schedule a water treatement installation, contact our Sarasota plumbers. Call 941-322-1911 today and find out why Wimpy's Plumbing customers say, I Love My Plumber!