Ellenton Plumbing & Air Conditioning Contractors
When you need help with your home's plumbing or air conditioning, call us at Wimpy's Plumbing & Air ASAP. We'll have an expert to your front door fast!
Why choose Wimpy's for your Sarasota area Service Area needs?
Our employees are fully-trained & licensed technicians so you can trust we get the job done right.
We'll show up on time and work hard to get you the very best solution to your problem.
We've been trusted in the community for 50 years!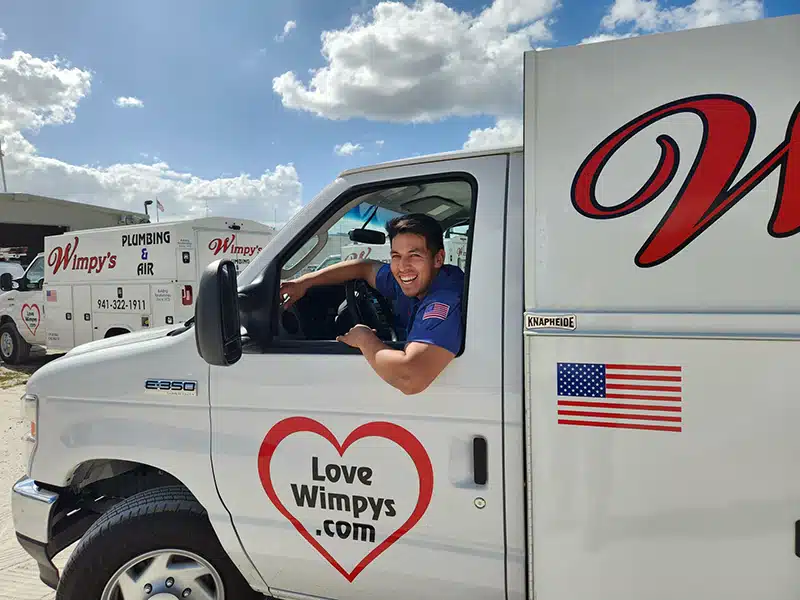 Ellenton Plumbers
Our plumber in Ellenton, FL is ready and waiting to help you out. No matter what you need to have done in your home, we'll work hard to finish fast. Stop worrying about your plumbing and rely on our team today!
Plumbing Repair in Ellenton
No matter what plumbing repair in Ellenton you require, we'll do our best to get the job completed fast. We know that you rely on your plumbing all the time, and we'll get your system back to normal fast.
Ellenton Plumbing Installation
We can install anything related to your plumbing, from sinks, tubs, and toilets to faucets, new pipes, new water lines, and more. Let us know what you need and we'll be there soon!
Plumbing Remodeling in Ellenton
When it comes to your next plumbing remodeling in Ellenton, our team of plumbers will take care of everything. We'll get the permits we need and finish the job on time, too!
Water Treatment Services in Ellenton
Clean up your water or get rid of hard water when you call us for water treatment services in Ellenton. We'll get you the solution you need for your home so you can feel good about your water again.
Call us now, or anytime you need a plumber in Ellenton, FL!
Ellenton AC Services
We offer a complete line of air conditioning service in Ellenton, FL. No matter what it takes, we'll get you the cooling power you need once again!
Air Conditioning Repair in Ellenton, FL
Our team will complete your air conditioning repair in Ellenton, FL ASAP because we know how badly you need cool air during the hot Florida summers!
Air Conditioning Replacement in Ellenton, FL
When it's time for a new air conditioner, we'll match you up with the very best one for your home and your specific needs.
Air Conditioning Installation in Ellenton, FL
Our team will handle your air conditioning installation in Ellenton, FL, too! We'll test your new unit part by part, then make sure it's cooling the way you need it to before we leave.
Air Conditioning Maintenance in Ellenton, FL
Our team for air conditioning maintenance in Ellenton, FL will take care of your air conditioner so it will keep working well for many years and so you can avoid urgent repairs when summer is at its hottest.
Call us at Wimpy's whenever you need air conditioning service in Ellenton, FL.
Ellenton Drain & Sewer Services
Our plumber in Ellenton, FL also offers drain and sewer services. We'll remove clogs and make repairs to get things flowing again soon!
Ellenton Video Camera Inspection
When you need sewer repairs or you're buying a new structure, call on our Ellenton video camera inspection team right away. We'll get to you fast and get you the images you need of your sewer line.
Ellenton Drain Cleaning
Our Ellenton drain cleaning experts will get rid of your clogs fast. We have a variety of methods at our disposal, and we'll choose the one that will work best given your situation and your needs.
Ellenton Sewer Repair
We'll get on your Ellenton sewer repair fast and get it done quickly so you can use your plumbing normally again soon!
Ellenton Hydro Jetting
Ellenton hydro jetting involves shooting a pressurized stream of water into your pipes to clear out clogs and clean them off. We'll leave them looking brand new!
Ellenton Sewage Pumps
Get rid of sewage fast with one of our Ellenton sewage pumps. We can install one today, or fix yours if it's not working well.
Repiping Services in Ellenton
Whether you need to have your home or your sewer repiped, we will take care of everything. We offer a complete line of repiping services in Ellenton so you can get your pipes fixed fast.