Plumbing & AC Help in Bradenton, FL
When you're in need of a plumber or AC expert in Bradenton FL, count on the experts at Wimpy's Plumbing & Air. We offer a full range of plumbing and AC services. When you contact us for your needs, you can rest assured knowing that the job will be done right the first time, every time.
Call us now to get started on your home service project in Bradenton!
Why choose Wimpy's for your Sarasota area Service Area needs?
Our employees are fully-trained & licensed technicians so you can trust we get the job done right.
We'll show up on time and work hard to get you the very best solution to your problem.
We've been trusted in the community for 50 years!
How Can We Help?
Call us today for all your Service Area needs!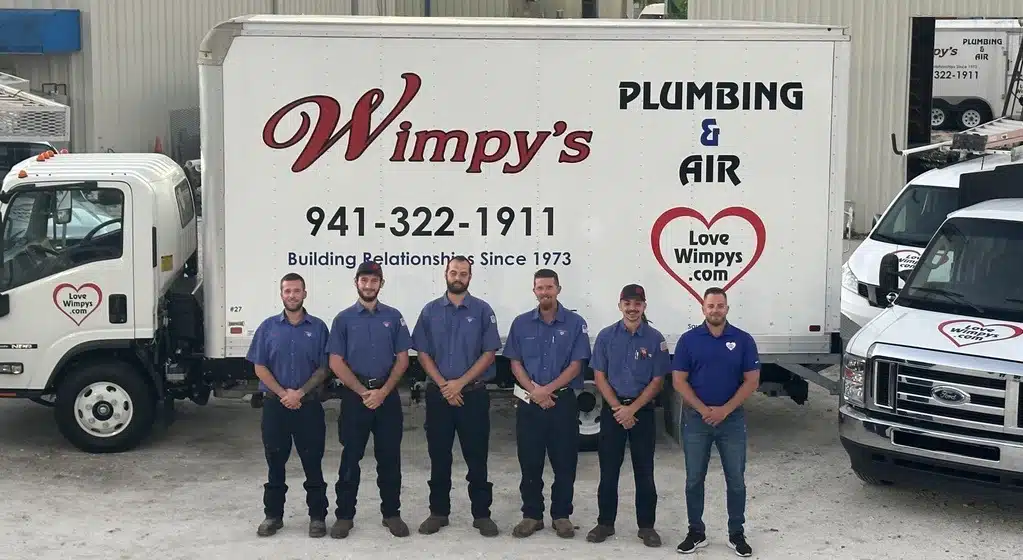 Plumbing in Bradenton
The next time you need help with your drains and sewer or plumbing in Bradenton, FL, give us a call. We'll show you why so many people in the area call us first, whenever they have a plumbing problem. While we offer comprehensive services when it comes to plumbing, there are a few things we see fairly frequently. Here are some common reasons why people call us for help:
Bathroom plumbing
Backflow prevention
Automatic shut–off valves
Trenchless sewer repair
Water heater services
Hydro–jetting
Repiping
Video camera pipe inspection
Water treatment systems
AC Projects in Bradenton
When your Bradenton air conditioner is working like it should, you probably don't give it much thought. To avoid breakdowns, though, it's important to pay attention to the system and make yourself aware of even the most subtle changes in how it performs. Minor changes may not seem like a cause for concern, but they could signify that a more serious problem is brewing. Call us for help and we can let you know if you need to have the unit repaired or replaced.
Friendly Staff
Our schedulers are friendly and knowledgeable. They'll get you a convenient appointment with an AC expert who will arrive on time, make sure that we understand your needs, and set you at ease.
AC Services
Our AC technicians will assess your unit and troubleshoot issues until they're sure about what you need to have done. We can recommend appliances that come from manufacturers we trust, answer any questions you might have, or get your current AC unit repaired.