Plumbing & AC Help in Lakewood Ranch, FL
When you need help with your plumbing or AC unit in Lakewood Ranch, call on Wimpy's. We have skilled, experienced technicians who will get to your home quickly, assess your needs, and get straight to work. We'll keep working until your plumbing and air conditioning is functioning the way you need it to.
Contact us today or anytime you need help. We promise to have someone at your front door as soon as possible. Our team is polite, will put you at ease, and will stay until things are working well again.
Why choose Wimpy's for your Sarasota area Service Area needs?
Our employees are fully-trained & licensed technicians so you can trust we get the job done right.
We'll show up on time and work hard to get you the very best solution to your problem.
We've been trusted in the community for 50 years!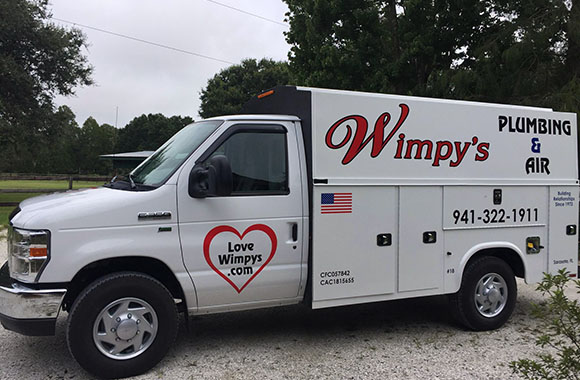 Plumbing in Lakewood Ranch
Your Lakewood Ranch plumbers from Wimpy's are happy to help you with any and all plumbing repairs that might come up in your home. Stop worrying about your plumbing and get our experts on the job today!
It's easy to put off calling plumbers in Lakewood Ranch but it's never a good idea! Plumbing problems usually get worse over time and you don't want to end up with a catastrophe on your hands! Instead, get our team working for you to resolve your plumbing issues fast.
Drain cleaning
Hydrojetting
Installations & replacements
Repiping
And more!
AC Projects in Lakewood Ranch
Whether you need a new AC in Lakewood Ranch, need yours fixed, or want to have maintenance service performed, our staff can help you out in Lakewood Ranch. We will make sure the job gets done right no matter what it is we are coming out to help you with. We test every service that we perform to ensure we completed the job right. Our staff won't leave your property until we are confident you will be cool at home.
Expert Sewer & Drain Services
Our experts in plumbing in Lakewood Ranch are happy to clean out any clogs you might have. Whether they are in your sewer or in your drains, our plumbing team will figure out how to access them, then get rid of them for you. We have many tools at our disposal, including plumbing snakes, hydro jetting, pipe descaling, and more! No matter what it takes, we'll get your clog out and get your plumbing working normally again soon.