Plumbing & AC Help in Myakka City, FL
Do you need help with your plumbing or AC system in Myakka City, FL? At Wimpy's, we are here for all of your needs. Just give us a call today and our friendly scheduling staff will connect you with one of our skilled plumbers or air conditioning pros. Our team will visit at a time that's convenient for you, assess things, then come up with a plan to get everything working.
Call us now to get started on your home service project in Myakka City!
Why choose Wimpy's for your Sarasota area Service Area needs?
Our employees are fully-trained & licensed technicians so you can trust we get the job done right.
We'll show up on time and work hard to get you the very best solution to your problem.
We've been trusted in the community for 50 years!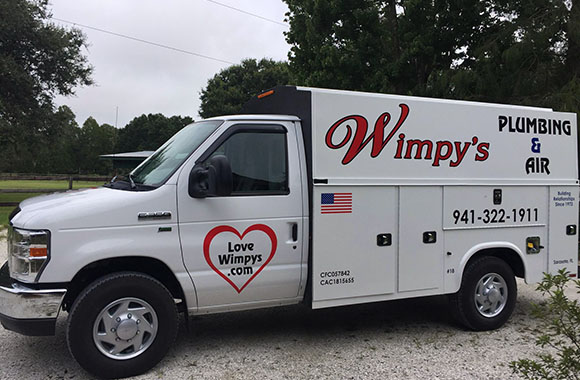 Plumbing in Myakka City
If your sewer is backing up into your home or you have a major leak, it's clearly time to call a plumber. However, there are other signs that your plumbing in Myakka City needs some professional help. Catch these and you may avoid a major plumbing issue…
If you hear gurgling or bubbles in your sewer
Your drains back up frequently
Your toilet overflows when you drain water from your bathtub
Running the washing machine makes water back up into the tub
AC Projects in Myakka City
The team of professionals at Wimpy's Plumbing & Air is here to help whenever you are having issues with your air conditioning system and need air conditioning repair in Myakka City, FL. We understand that every minute without a working AC unit is uncomfortable and inconvenient, so we work fast to get things fixed. As an air conditioning repair company with many years in business, you can place your trust in our services. Call us today to schedule an appointment for home AC repairs!