Plumbing & AC Help in Nokomis, FL
We'll come out and get your plumbing and air conditioning service done for you in Nokomis, FL! Our team works fast and will complete things quickly so you don't have to worry about the situation at home anymore. Call Wimpy's for an appointment today!
From repairs and maintenance to replacements and installations, we have the best technicians in town for the job. Our honest and dependable staff are available now to help you out with your worries.
Why choose Wimpy's for your Sarasota area Service Area needs?
Our employees are fully-trained & licensed technicians so you can trust we get the job done right.
We'll show up on time and work hard to get you the very best solution to your problem.
We've been trusted in the community for 50 years!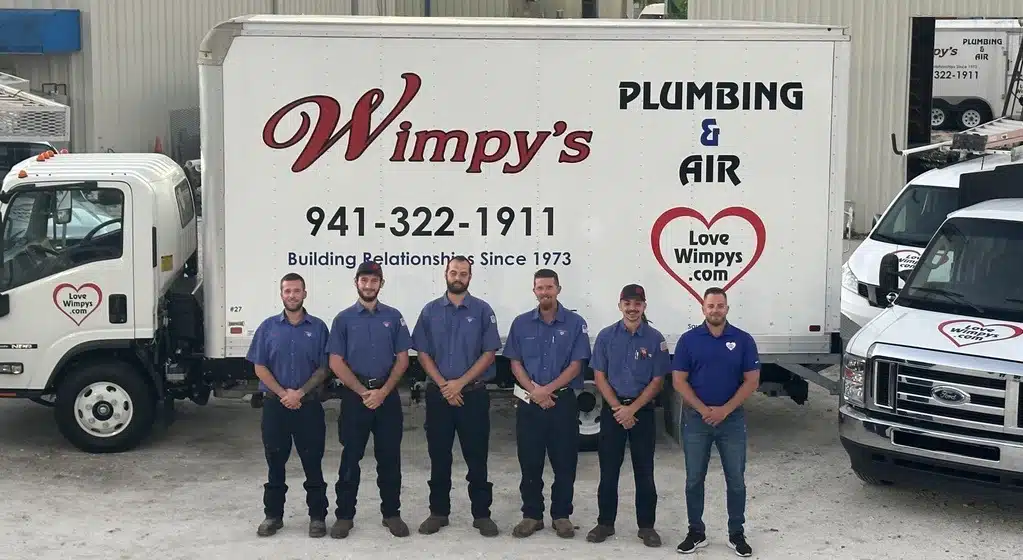 Plumbing in Nokomis
Is it time for plumbing service at your property in Nokomis, FL? If you suspect a problem with your pipes, drains, or sewer, call in experts from Wimpy's as soon as possible. Don't let it wait because the problems will only get worse. We'll send a local plumber to you and get the problem diagnosed and repaired as soon as possible.
You can always call us with your plumbing questions and we'll come evaluate for ourselves. It's always better to be safe than sorry when it comes to your water and plumbing systems.
Drain cleaning
Hydrojetting
Installations & replacements
Repiping
And more!
AC Projects in Nokomis
Some homeowners think they have to wait for their AC to die completely before they should call for repairs in Nokomis or the surrounding areas. This is not the case! In fact, if you call us at the first sign of an AC problem in Nokomis, we'll try to get things fixed before you end up without AC. This can keep you cool all summer long and can help keep you out of a really stressful situation.
Our staff can take a look at your malfunctioning unit and let you know if repairing it or replacing it is the better option. No matter what you decide to do, we are here to handle the execution in a professional manner.