Plumbing & AC Help in Palmetto, FL
When it's time for AC or plumbing service in Palmetto, we'll help you out at Wimpy's Plumbing & Air. We have experienced technicians on staff who make sure you get the very best service for you and your family.
Our staff is courteous and will help you in a professional and reliable manner. Our plumbers and air conditioning contractors value safety, honesty, and being precise. Call us now for assistance in Palmetto!
Why choose Wimpy's for your Sarasota area Service Area needs?
Our employees are fully-trained & licensed technicians so you can trust we get the job done right.
We'll show up on time and work hard to get you the very best solution to your problem.
We've been trusted in the community for 50 years!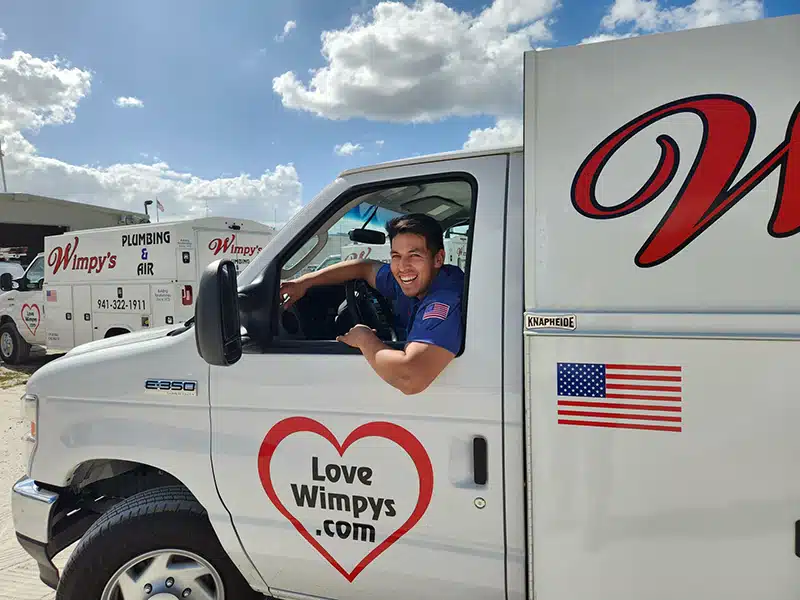 Plumbing in Palmetto
Not sure if your plumbing problem in Palmetto is that serious? Here are a few things to look for to determine whether you need to call us for help…
Leaking pipes
Drains that are clogged or slow
Sewer smells
Wet spots on walls
Cold water
Dirty water
AC Projects in Palmetto
Are you considering having a new air conditioner installed in Palmetto, FL? Maybe you've been holding off for several years but you don't want to roast in your home again this summer. If you're on the fence about this decision, we're happy to come out and help get you replaced with a brand new one.
When you're having problems with your air conditioning, call us at Wimpy's. We'll send out an expert in air conditioning repair to your home fast, because we know that you won't want to live without AC for long. Our crew will do everything they can to quickly assess your needs and get the right AC repair in place.