Plumbing & Air Conditioning Osprey, FL
When it's time for an air conditioning expert or plumber in Osprey, FL, don't just go online and search for any company. Instead, make sure you get the best service around by calling Wimpy's Plumbing & Air for the job.
No matter what you require when it comes to Osprey air conditioning or plumbing work, we have you covered. One of our professional technicians will be on the way to your home to make sure you have what you need.
Call us now for quality service!
Why choose Wimpy's for your Sarasota area Service Area needs?
Our employees are fully-trained & licensed technicians so you can trust we get the job done right.
We'll show up on time and work hard to get you the very best solution to your problem.
We've been trusted in the community for 50 years!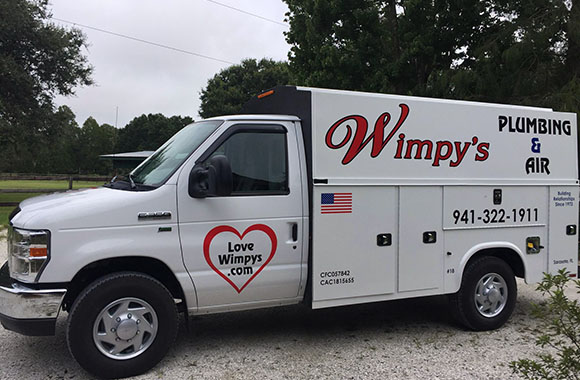 Plumber Osprey
Contact us today if you need drain or sewer help. At Wimpy's, we have experienced plumbers in Osprey standing by, ready and waiting to come to your house, assess your needs, and help you find the solutions that you need. Whether you need to have your plumbing cleaned out, fixed up, or part of it needs replacing, we'll get the job done as soon as we can so you can get your life back to normal fast.
Drain cleaning
Hydrojetting
Installations & replacements
Repiping
And more!
Air Conditioning Osprey
When you call on Wimpy's Plumbing & Air for air conditioning in Osprey, we'll send an expert to your home fast. Your expert will listen to you explain the problem, then take a look at the AC unit itself. As soon as we know what has gone wrong, we'll begin your repair and keep working until you have the AC you need. Call us today to get fast, friendly service from people who love their jobs and who want to help you stay comfortable.
If you are in need of having your Osprey air conditioning unit replaced, we can help you with every step of the installation process. Our experts can recommend a brand and model that fits your specific needs and that come from a manufacturer we have worked with before and know is reliable. Just let us know you're in the market for a new one and we can do the rest!