My Yard Stinks and it is All Wet.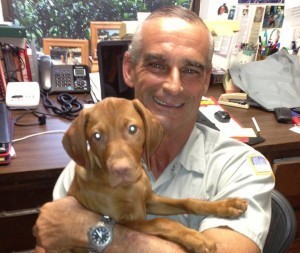 Does your yard smells bad and is the ground all around the septic tank area wet? Do you have little tiny gnat like flies in that area? If the answer is yes, you may have a drainfield that is no longer perculating.
A lot of people think that all they will need to do is have the septic tank pumped. This is only a temporary fix.
Allow me to explain why. A septic tank acts as a holding reservoir for the waste and solids. The septic tank is designed to always be full of water. The tank acts as a tea cup. Put a tea bag in a cup and pour it full of water. If you have a cup full of tea and keep pouring water into it, the excess tea will just flow over the sides. If you pour the cup out and leave the tea bag in, when you start pouring water back in the cup, it will fill right back up and flow over the sides again and again.
Same principle as a septic tank, except the excess water that comes in after the tank is full, just flows off into the drainfield and the solids stay in the tank.
If the drainfield is not working properly, the excess water will not soak into the drainfield, but will come up from the ground and not soak in. This creates the bad smelling yard and those pesky little flies.
This creates a very unsanitary condition. This is why plumbing is such an important profession. Without professional plumbers, could you imagine the living conditions in the United States?
Plumbers protect the health of the nation every day. People just want their plumbing to work. And when the plumbing backs up, they want a Professional Plumber, who can take care of their problems.
Some of the plumbing companies in the Sarasota, Bradenton area don't work on septic systems or drainfields. Rest assured, that Wimpy's Plumbing & Air is a Sarasota Plumber that is a full service Plumbing Company that is always at your beck and call, 24/7.
If you need a dependable, honest and trustworthy, professional Plumber in Sarasota, call Wimpy's Plumbing & Air. 941-322-1911. Proudly serving the Sarasota, Bradenton area as a family business for 40 years.
We want you to Love Your Plumber. Visit us at www.LoveYourPlumber.com